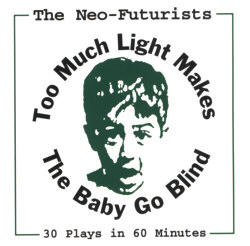 Every time I'm in New York, I make it a point to see Too Much Light Makes the Baby Go Blind.  Every time.   And I try to drag as many friends as possible (as any of my Facebook friends who live in NY can attest.) One visit I went to both weekend shows.  This show and its aesthetic epitomizes much of what I find interesting about theater.
The show was created by the origianl Neo-Futurist troupe in Chicago over twenty years ago. It is dedicated to "non-illusory" theater, that is, there's no attempt to suspend the audience's belief. The actors always play themselves, and while they may evoke other locations, there's no attempt to pretend that they're anywhere other than the theater.  The audience is always acknowledged and often integrated.  They don't so much as break the fourth wall as they refuse to conceive of one. The material they use comes from experiences in their own lives and must be true.  If they perform a monologue about how they broke their leg last week, it's because they broke their leg last week.
In Too Much Light, they attempt to perform 30 miniature plays in this aesthetic in 60 minutes.  In whatever order the audience calls out.  When the 60 minutes are up, the show is done. And then each week they replace a random number of those plays with new ones. So the piece is constantly evolving and changing from week to week. As they're fond of shouting "If you've seen the show once, you've seen it ONCE."
The shows are high energy, interactive, surprising, hilarious, surreal, and sometimes heartbreakingly beautiful. If a few of the small plays don't connect, that's just fine, cuz you can be assured that a bunch of the others will.  Plays can be one of the neos discussing their childhood aspirations while performing a classical ballet routine to Pat Benatar, or the ensemble taping streamers across the stage, putting on corsages and boutonnieres, and standing shyly against the walls while Phil Collins plays over the PA, until audience members catch on, come on stage, and ask them to dance. It's purely Definite Content.  Translation into any other medium is impossible.
This weekend I was fortunate enough to be invited to a workshop given by two Neo-Futurists from Chicago. Over the two full day sessions we ran a series of explorative exercises, focusing on things like site specificity (doing a piece that can uses unique aspects of the performance space, again, making it a kind of Definite Content), adapting true stories for a non performative performance, and task based theater, theater that involves undertaking some actual activity on stage, whether folding laundry or making a sandwich.  Each student produced three complete Neo performance pieces, one of them written from nothing in 30 minutes.
One of the revelations of the class was how damn good everyone was.  Even though only one other student was directly familiar with Neo-Futurist ideals, all of the nine students seemed to immediately get it. I'm not sure if it speaks to the talent of the students, the teachers, or the intrinsic nature of the aesthetic but each piece felt rich, deep, and profoundly affecting.
So now I have to figure out how to integrate this style of work into what I'm doing right now.  After all, this is the theater I love, why not try to make some? Some of it's already in my piece.  What would a Neo-Futurist opera be? While large chunks of my opera are "illusory", I'm pretending to be someone else (a few people, actually), there are crucial bits where that all falls away.  But perhaps there's a task that can be performed during an aria?  Something site specific?  Perhaps I could involve the audience directly?  Pull them onto the stage? How can I counter the distancing effect of opera, of sung dialogue.  Or at least utilize it as a foil to the more immediate, non-illusory moments.
PS In other news, I found time to edit the first movement of my string quartet.  Look for the audio and some detailed program notes about the composition of the piece later this week.  The rest of the piece will come in the weeks to follow.