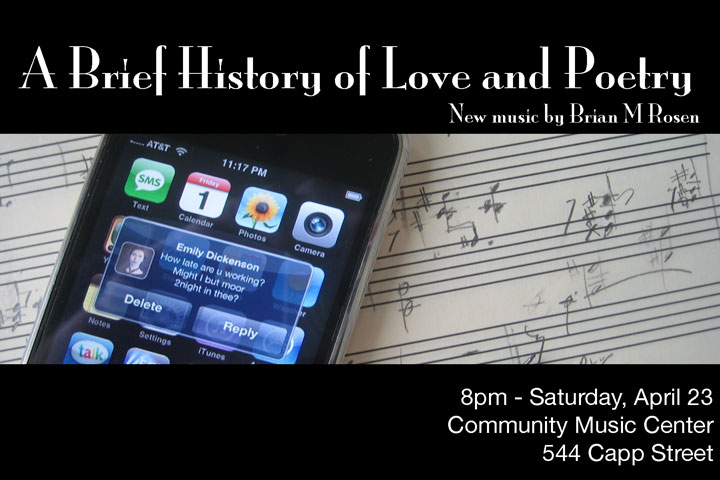 Join us for an evening of new music from composer Brian M Rosen followed by a casual reception:
8:00 pm – Saturday, April 23rd
San Francisco Community Music Center
544 Capp Street
San Francisco, CA
Suggested donation $20 (or pay what you can)
Go to the public Facebook event and add yourself to the guest list

View Larger Map
Program
A Brief History of Love and Poetry
Five songs for baritone and mezzo-soprano examining how love changes over a lifetime as well as throughout history. The poems span from the mid 1800s through the late 20th century and the settings draw upon a similar timespan of musical influences: rhapsodic nocturnes, angular neoclassicism, jazz, and ragtime.
String Quartet No. 1
A three movement work of widely varying character. The first movement (On the Rails) is a collision of baroque and minimalist techniques, the second (Tango a la Peachy) a sultry tango threatening to devolve into hysterics, and the last movement (Off the Rails) a buzzing whirlwind that breaks free from darker undertones to reach a thrilling finale.
Learn more…
Excerpts from Failing That
Selections from a work in progress, a solo opera that follows the lives of three characters as they all fail in catastrophic ways in some areas of their lives.
Learn more…
Excerpts from Alice
Scenes from an adaptation of the classic Alice in Wonderland, including the Mad Tea Party and the Chamber of Doors. Originally commissioned by Cinnabar Opera Theater.
Performers
Jason Sarten – Baritone
Cary Ann Rosko – Mezzo soprano
Brian M Rosen – Baritone/Composer
Keisuke Nakagoshi – Piano
String quartet:
Violins: Liana Berube, Stephanie Bibbo
Viola: Evan Buttemer
Cello: Lucas Chen